2023
RUSKEALA MOUNTAIN PARK,
Karelia July 14 and 15, 2023
Lineup
VII International Music Festival Ruskeala Symphony
July 14. Day 1
1
The main stage in the Italian Quarry
RUSKEALA MUSICAL NIGHT
Plunge into the glittering world of musicals in the enchanting Karelian countryside
Karelian Philharmonic Orchestra, сonductor - Aleksei Niaga
soloists:
Saule Iskakova (soprano)
Maria Mukupa (mezzo-soprano)
Sergei Korovin (baritone)
Roman Driablov (tenor)
Special guest, presenter — Ilze Liepa
Hits from musicals and rock operas: Notre Dame de Paris, Romeo and Juliet, Chicago, Juno and Avos, Phantom of the Opera, Cats, Mamma Mia!, Moulin Rouge
July 15. Day 2
3
The railway platform Ruskeala
RUSKEALA WELCOME
We welcome festival guests with joyful folk tunes
Russian folk instruments quartet of the Karelian Philharmonic Four Quarters
1
The main stage in the Italian Quarry
RUSKEALA STARS
Admire the skills of the musicians of the legendary ensemble and the renowned violinist
State Chamber Orchestra Moscow Virtuosi
artistic director — Vladimir Spivakov
conductor — Arsentii Tkachenko
soloist — Honoured Artist of Russia Alexei Lundin (violin)
Russian and foreign classics
2
The expanse of the Marble Canyon lake
RUSKEALA VOICES
We'll declare our love for Karelia over the waters of the Marble Canyon
Male Chamber Choir
The artistic director and the chief conductor — Aleksei Umnov
Choral poem "Karelia is a love of mine" by Anton Viskov, specially written for the ensemble
1
The main stage in the Italian Quarry
RUSKEALA FOLK
Enjoy the ensemble beauties singing in the natural scenery of the picturesque marble rocks
Honored Collective of the Republic of Belarus
Folklore Group Kupalinka
Hits from the ensemble repertoire
2
The expanse of the Marble Canyon lake
RUSKEALA BAROQUE
Welcome to a musical journey into the past, accompanied by instruments recreated according to ancient canons
Ensemble «L'esprit du Vent»
Music by Lully, Philidor and Purcell
1
The main stage in the Italian Quarry
RUSKEALA JAZZ
Let's swing to the band original compositions and jazz versions of the well known tunes
Honoured artist of the Republic of Tatarstan Vadim Eilenkrig (trumpet)
Jazz quintet Eilenkrig Crew
Jazz standards
4
Visitor centre (the old parking)
RUSKEALA FLAMENCO
Let's bust a move to flamenco music soaked in the southern sun and the bright colours of the Mediterranean
Ivan Dorzhiev (Spanish guitar)
Anastasia Bakhtiari (flamenco dancer)
1
The main stage in the Italian Quarry
RUSKEALA GRAND FINAL
Celebrating the 150th anniversary of Sergei Rachmaninoff with an incomparable alliance of stars and timeless music
Philharmonic Orchestra, сonductor — Anatolii Rybalko
soloists:
Evgenii Mikhailov (piano)
Viktor Korotich (baritone)
Ekaterina Sergeeva (mezzo-soprano)
Sergei Rachmaninoff - Rhapsody on a Theme of Paganini for Piano and Orchestra; world opera hits
About the festival

VII Ruskeala Symphony International Music Festival
Harmony of music and nature
The Ruskeala Symphony Festival appeared on the initiative of the Head of the Republic of Karelia Artur Parfenchikov in 2017. This event became a phenomenon in the cultural and tourist life of Russia and immediately entered the top 15 regional events of the country. The guests of the festival are attracted not only by the program of the event and the brilliant cast of performers, but also by the opportunity to visit a unique monument of nature and industry — man–made marble quarries that arose on the site of marble developments of the XVIII—XX centuries - the Ruskeala Mountain Park. The festival stages are located in the open air: in the pearl of the Mountain Park – the so-called "Italian Quarry", on the water surface of the "Marble Canyon" and in other parts of the park.
The festival is held annually. The Ruskeala Symphony program is interesting to the public with a variety of tastes and a variety of musical training. Classical music, modern compositions in classical processing, jazz, and even the artistic word have a place in the festival program.
The IV Ruskeala Symphony Festival was awarded the Grand Prix in the nomination "The best tourist event in the field of culture" at the IX National Award in the field of event tourism "Russian Event Awards-2020".
Organizers: The Government of the Republic of Karelia, the Ministry of Culture of the Republic of Karelia, the Karelian State Philharmonic and the Mountain Park "Ruskeala" (LLC "Kolmas").
Festival map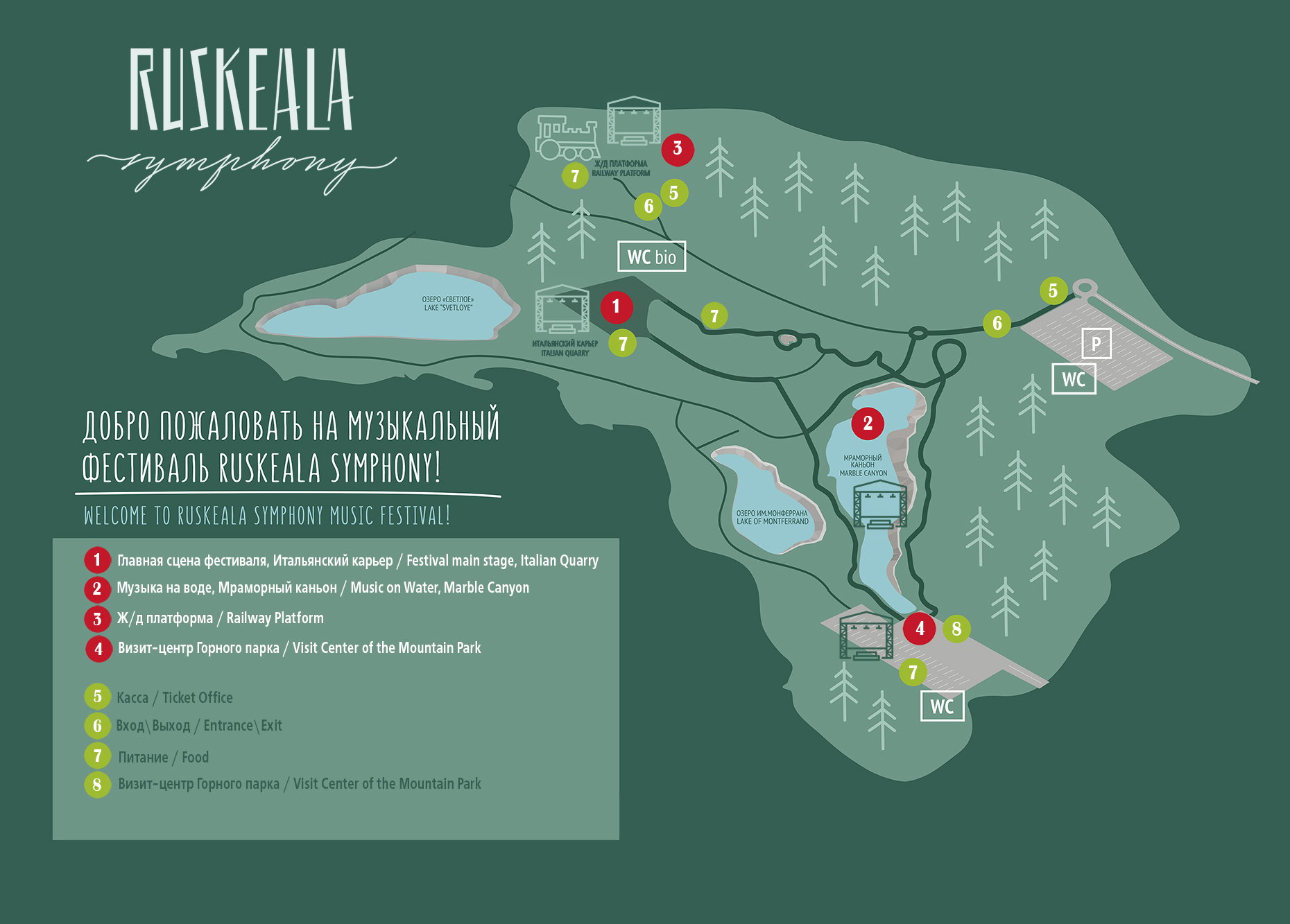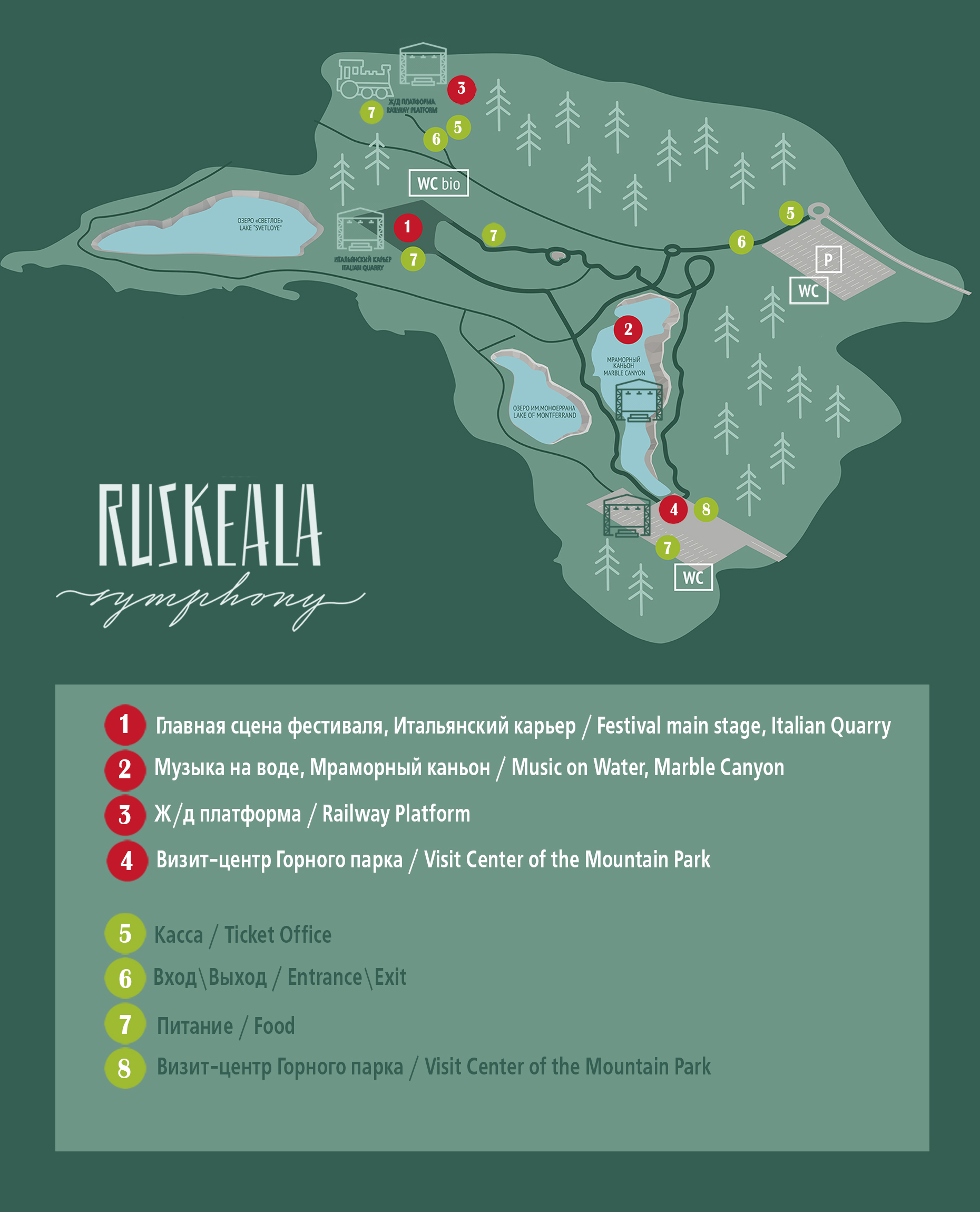 Transfer
By car
Ruskeala village is located 37 km northwest of Sortavala
Coordinates 61°55'51" N (s.w.), 30°35'31" ( V. D.), 20 km to the border crossing "Vyartsilya"
By train
"Ruskealsky Express is a regular passenger retro train running daily on locomotive traction. The train consists of five cars including a dining car.
The train schedule is fully docked with the high-speed train "Swallow" St. Petersburg - Sortavala (Railway station)
By bus
A transfer from Petrozavodsk and St. Petersburg is organized for the Ruskeala Symphony Festival. All flights are coordinated with the festival program.
You can find out more information and purchase tickets on our partner's website.